Autism Advocates Seek Return of Snapple Drink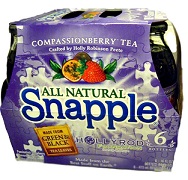 In 2010, actress and talk show host Holly Robinson Peete competed in Donald Trump's hit reality show Celebrity Apprentice, where she placed second behind Poison lead singer Bret Michaels. As part of the season finale, Michaels and Peete were tasked to create and market a new drink flavor for Snapple. Peete, a mother of a child with autism, helped formulate Snapple's Compassionberry Tea, with proceeds benefiting the HollyRod Foundation, an organization she and her husband founded that assists individuals and families affected by autism and Parkinson's.
As we reported last year, Snapple disappointed many autism advocates (including Peete herself) by pulling the Compassionberry Tea from store shelves just one month before April's Autism Awareness Month. Now, a year later, many autism advocates are hoping the drink will make a return in time for next month.
Peete, along with a host of other autism advocates, began tweeting this week, drawing attention back to the drink and its cause. Here's a small sample of those requests: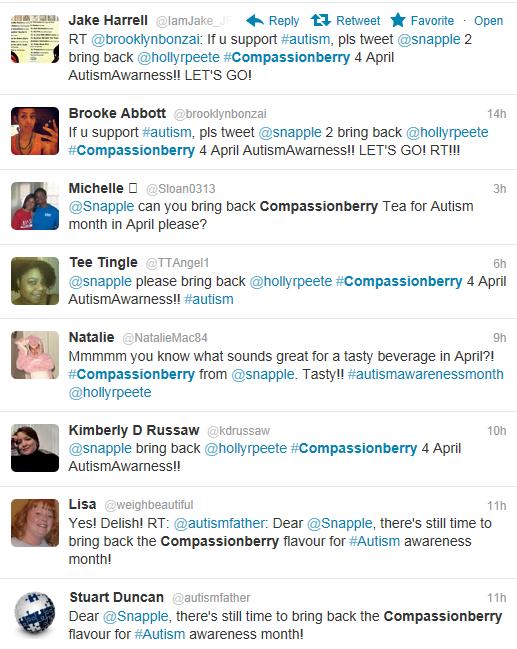 It's still unclear why Snapple pulled the Compassionberry flavor last year, but some have speculated that it was strictly a business decision and not related to the demand or likeability of the beverage itself. In fact, an Autism Key reader made the following comment from our previous story:
"I think it's pretty obvious what's going on here…There are many flavors of Snapple that don't taste very good, but Snapple doesn't have to split the profits with a charitable organization. I think they should cancel one of their other existing flavors and keep Compassionberry
Tea…."
It should be noted that after nearly two years, Bret Michael's Trop-A-Rocka flavor is still listed on Snapple's Web site and presumably still in stores.
If you would like to voice your opinion and help bring back Snapple's Compassionberry Tea for April's Autism Awareness Month, you can contact Snapple's consumer affairs division at: http://www.econsumeraffairs.com/am_bev/contactus.htm?F1=snapple

Please be respectful in your correspondence and show them how passionate (and compassionate) autism advocates can be!