Autism Documentary by Oscar-Winning Director Set for Release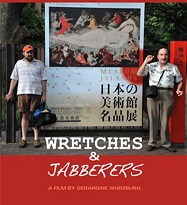 There is an amazing autism documentary on the horizon that will be released
just in time for Autism Awareness Month in April. Directed by Gerardine Wurzburg, "Wretches & Jabberers" follows two grown men with autism as they embark on a world quest to change attitudes
and perceptions about their disorder. Tracy Thresher, 42, and Larry Bissonnette, 52, travel to Sri Lanka, Japan and
Finland, deliberately challenging people's attitudes and assumptions about their
intelligence and capabilities.
Thresher and Bissonnette were both presumed "retarded" as children and excluded from normal schooling. Because of their limited speech, they each faced lives of social isolation and despair in institutions. When as adults they learned to communicate by keyboarding, their lives improved dramatically. The message of their world tour is the life-altering power of communication that ushers in hope for everyone on the autism spectrum.
The film records their emotional and transformative encounters with young men and women with autism, parents and students, as well as their delightful reactions to the local sights and sounds of the cultures they are encountering for the first time.
Wurzburg, who won an Oscar in 1993 for "Educating Peter," a
documentary short about Down syndrome, appears to have outdone herself as there
has already been significant buzz generated about this film. Additionally,
Wurzburg is no stranger to the subject of autism, directing and producing the
2004 documentary short, "Autism is a World."
"Wretches & Jabberrers" opens for a one-week run in New York City on April 1 at the AMC Empire 25. After that, it will be sent on a forty city tour
in top markets, including Los Angeles,
Houston and Chicago. The Autism Society of America will receive an undisclosed portion of ticket sales and help promote the film.
It's rare for any documentary to receive a multiplex showing, but AMC Theatres
has long been on the forefront of accommodating moviegoers with autism. In sixty-two cities, they host a program where Hollywood films are screened
in theatres that cater to those with autism. Auditorium lights are brighter and the volume is lower as guests are encouraged to move about,
sing or shout in reaction to the movie.
Hats off to AMC for giving "Wretches & Jabberers" the theatrical run it
deserves and for their commitment to the autism and special needs communities.
Based on the trailer, it looks to be a very powerful film.