Autism Documentary Seeks Additional Funding for Release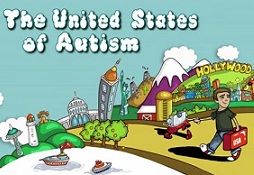 With the launch of this month's critically acclaimed autism documentary,
"Wretches and Jabberers," another autism film that has
yet-to-be-released is quietly creating a buzz online and in the blogosphere.
"The United States of Autism" is a documentary from director Richard
Everts that involves a quest across America in just 40 days involving 11,000
miles and 20 families speaking 5 different languages. With the help of the Pepsi Refresh
Project and a $50,000 grant, Everts and a small production team ventured out to
seek answers to questions for not only himself and his son with autism, but for
other families dealing with similar challenges as well.
The film weaves a broad and compelling tapestry across all faiths, disparities,
colors and cultures. What is learned along with way has changed not only the
life of Everts, but the families he came across as well.
Currently in post-production, "The United States of Autism" is in need
of additional funding for its marketing, distribution and release. Online
donations are being accepted and every pledge over a certain amount receives a
gift based on that amount. If Everts and his team exceed their goal of $10,000
by May 6, the project will be funded.
It would be a shame if the distribution and release of this film were to be held
up or scrapped altogether due to lack of funding. Pledges as small as $1.00 are
being accepted at: http://www.kickstarter.com/projects/1159849552/united-states-of-autism-movie-post-production
. If the goal is not reached, those who made pledges will not be charged.
As of today, 7% of the film's fundraising goal has been met, with 22 days
remaining.