Autism Speaks Announces the Ten Best Cities for Autism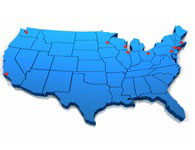 As part of Autism Awareness Month, Autism Speaks has released its findings from
an online survey identifying the most livable cities for autism. These cities were recognized by respondents for best availability of services and resources, including educational, recreational and medical offerings.
The cities, in no particular order are New York, Los Angeles, Chicago, Cleveland, Philadelphia, Boston, Northern New Jersey, Minneapolis/St. Paul, Seattle and Milwaukee.
The worst overall places included Texas, Virginia, Tennessee, Florida, Michigan and ironically, Ohio and California, despite the high ratings for both Cleveland and Los Angeles.
Surveys came from 848 respondents and revealed that seventy-four percent were generally unhappy with the availability of services for autism where they lived, while 26% said they were generally happy.
Among those unhappy with where they live, areas of sharp grievances were travel time necessary to access services and resources and limited access to medical care. Half the survey takers were unhappy with their child's educational
services and most telling, ninety percent of all respondents reported no access to crucial respite care.
In contrast, satisfied respondents report good access to medical care and services that were proximate to their homes. Ninety-five percent were happy with their child's educational experience. Yet seventy five percent of this group didn't have access to respite
care either. Supportive workplaces were a strong element of satisfaction and fifty-five percent of the happy group said their employers had family-friendly policies.
Before anyone starts packing their bags to move to Seattle, I have to say that I believe the "happy" respondents from Seattle are likely reporting from the upper ranks of the income scale. The public school system here is incessantly grappling with mismanagement and proves treacherous for children with autism. Special education teachers have zero required training in autism and it's the luck of the draw whether an instructor will help or harm your child. All the experts in autism I encountered exhorted me to move to the suburbs with their far superior schools, but that was a financial impossibility for me.
Every service I ever tried to access required languishing on a waiting list until I'd forgotten I'd ever signed up.
And the Department of Developmental Disabilities denied me respite care because my son's IQ was too high. I finally petitioned the governor and received nineteen hours a month in respite care, but the provider was untrained and called
the fire department when my son had an anxiety attack, a possibility I had copiously prepared her to deal with.
Since my sons are now teens, it may be easier for parents of young children to access services now than it was for me. But I can currently attest to the school system's lamentable state, the
children's hospital lack of special protocols for their patients with autism and the dearth of respite care.
Microsoft is one of the region's major employers and they are known for excellence in taking care of their employees who have children on the autism
spectrum and they help give the city its rosy glow.
Also, 848 respondents is not a huge pool. Still, interesting facts can be drawn from this survey as to what defines a strong community for autism support and regions where the most work remains to be done. Alarmingly, on the low end of the scale, Florida and Tennessee still allow corporal punishment, which paired with poor autism services, is truly frightening.
Clearly, major population centers comprise ten out of ten places on the list and the overarching grievance amongst everyone is lack of respite care.
Again, I am aware of the many challenges still facing us and I hope this special month represents a real opportunity
for meaningful changes to make all our of communities more livable for families contending with autism.