Bullying Victim Casey Heynes Exacts Revenge, Gets Suspended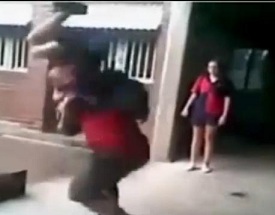 The Internet and blogosphere have been buzzing all week about a bullying
incident that occurred on Monday in Sydney, Australia. Sixteen-year-old Casey
Heynes was the target of repeat bullying by numerous students at Chifley College, Dunheved Campus at North St Mary's
and can be seen in a video once again being tormented by a fellow student.
However, the video, which has gone viral this week, shows an unexpected turn of
events when Heynes decides to retaliate and ends up body slamming his
12-year-old attacker, who has been identified as Ritchard Gale. Despite the clear act of self-defense, the school made the
decision to suspend both Gale and Heynes once the video began to circulate online.
The bullying had been so severe for the overweight Heynes, the
Daily Telegraph reported the following:
Casey's father said yesterday his son had been the victim of bullying for several years and feared for his safety if he spoke about the fight.

"There'll be reprisals from other kids in the school and he still has to go to school somewhere," he said.
Luckily, no one was hurt in the incident, despite Gale getting up
with a severe limp after being slammed into concrete.
This story is important because bullying is all-too-common for children on the autism spectrum, particularly
those who are high functioning. While the incident was unfortunate, it is
encouraging that it is receiving so much attention as it will certainly bring
greater awareness to bullying and some of the torment that many
students have to endure on a daily basis.
Most incidents of bullying don't turn out like this and it's safe to assume Ritchard Gale will think twice about picking on someone again. Kudos to Casey.