Claire Danes Wins Deserving Award for Role in Temple Grandin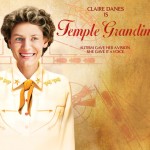 Amid the insults and mean-spirited humor from host Ricky Gervais, there were
some bright spots during last night's 68th Annual Golden Globes Awards
ceremony. One of which included actress Claire Danes taking home an award
for her portrayal of Temple Grandin in the made-for-HBO movie with the same
name. Danes' award was for best
performance by an actress in a mini-series or a motion picture made for
television. Dr. Temple Grandin, who was in attendance, was recognized and
thanked during the acceptance speech (posted below) and was clearly elated about
the outcome.
For those who have not yet seen the movie, it's a fascinating look at
the life of Temple Grandin, who helped raise awareness and implement best
practices for the humane handling of livestock on cattle ranches and
slaughterhouses. Grandin was diagnosed with autism in 1950 in a time
where there was very little knowledge about the disorder. In fact, at age
two, she was thought by her doctors to have brain damage. Grandin
eventually persevered and now holds a PhD in animal science and is a professor at Colorado State University.
Claire Danes did an excellent job at bringing Grandin's story to light and helped raise further awareness about the plight and struggles of
individuals with autism. The story shows Grandin's ability to rise above the gloom-and-doom predictions and live an incredibly
productive and fulfilling life.
With the success of recent films dealing with the subject of autism such as
Snowcake, Adam, and now Temple Grandin, hopefully Hollywood will consider
producing more of these positive and uplifting films that portray individuals with autism in a
positive light. This will help further educate the public about autism and
offset the stigma that was created when Rain Man was released nearly 25 years
ago.
Congratulations to Claire Danes on a well-deserved award and for an
incredible performance.