Dan Marino Looks to Sack Autism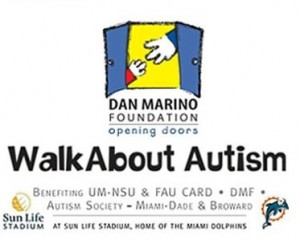 It's always beneficial when a well-known public figure
can use their celebrity status to raise awareness and funding for autism. But
when that celebrity also has a child with autism, there is a "credibility" factor and an
instant connection is made with the autism community. As
a result, great things are typically accomplished.
Such is the case with Dan Marino, who along with his wife
Claire, have been bringing autism awareness to the public eye since 1992 when
they established the Dan Marino Foundation.
Marino's son, Michael, was diagnosed with autism at an
early age but through intensive therapy, has been able to far exceed
expectations that were made for him at the time of his diagnosis.
Now at 21, Michael is an amazing young man and living a productive and
fruitful young life.
The Dan Marino Foundation has been an instrumental
organization for those with autism in the
South Florida
area and continues to impact the community to this day.
On
Saturday, January 29th, 2011
, Marino's foundation will be hosting its first annual autism walk at Sun Life
Stadium, home of the Miami Dolphins in Miami
Gardens, from 10:00 a.m. – 2:00 p.m.
All proceeds raised from the event
will stay in the
South Florida
community and benefit autism services and awareness.
Celebrity attendees at this event will include Dan Marino,
Miami Dolphin alumni players, Miami-Dade and Broward County elected officials,
and television personalities. There
will also be a video game zone, music, and entertainment.
For more information about the event or to learn how to participate go to
www.dmfwalkaboutautism.org .
To witness how far Marino's child has come since his
early years, check out the video below. It first aired in 2005 when
Michael Marino was 16.