Disney Changes Set to Impact Special Needs Families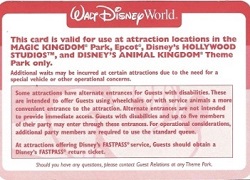 Some upsetting news has emerged for families of individuals with autism and other special needs who plan to visit Disney World or Disneyland anytime in the foreseeable future.
According to Mice Age, the widely popular Guest Assistance Card (GAC) program, which helped accommodate guests with special needs, is set to discontinue at the beginning of next month. The GAC previously allowed an individual with special needs and up to five other guests to access the "FastPass" areas, by-passing many of the long lines in the process. The card did not guarantee parties would skip every line, but it was a huge relief for those who were unable to wait in long lines due to their physical or developmental issues.
The GAC program will supposedly be replaced by something called the Disabled Assistance System (DAS). Without getting into details on the DAS (including the poorly chosen name), it appears to be a very bad alternative that will severely impact the overall experience of special needs families who visit any of the Disney theme parks.
There's speculation that the planned changes are due to rampant abuse of the system carried out by able-bodied individuals. Due to
health privacy laws, Disney Cast Members were not allowed to ask for medical documentation for those requesting a Guest Assistance Card, essentially turning the program into an honor system. As one would imagine, this led to some series abuse, and perhaps the straw that broke the camel's back occurred earlier this year when the Today Show did an embarrassing exposé about families hiring "disabled tour guides" from Craig's List, who would accompany them on trips for the sole purpose of obtaining a GAC. That sickening story can be watched below.
These developments are upsetting on so many levels, and it would be very easy to direct one's anger at Disney for making these changes. Ultimately, however, the anger should be directed towards the shameful individuals who abused this system that led to these planned changes in the first place. What these selfish people don't realize is that most of us would gladly exchange the struggles we face with having to wait in long lines at Disney.
We live in Florida and were actually considering renewing our annual pass for Disney, but these planned changes to the GAC program pretty much make that decision easy. There is no way we could have a meaningful or enjoyable experience at these parks without some way to avoid excessive wait times. It's the reality of our son's condition.
For those who want to do something about these planned changes, there is a Change.org petition that can be signed here. Tell Disney not to throw the baby out with the bathwater and to find a better solution to accommodate special needs families, while simultaneously weeding out the fraudsters in the process.