Former Big Brother Winner Faces Heavy Prison Term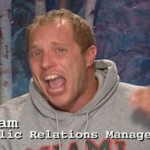 Former "Big Brother 9" contestant Adam Jasinski will be sentenced
this week for attempting to sell 2,000 pills of oxycodone to a DEA informant, as
well as his failure to file a tax return for 2008, the same year he won $500,000
for his part in the hit reality series. Jasinski is expected to draw a
heavy prison term and faces a maximum of 14 years in federal prison, plus an additional
one year related to the tax filing charge.
It's been an up-and-down ride for Jasinski since he first appeared on the CBS
show. He initially made headlines for calling children with autism "retards." Jasinski's comments drew the ire from the autism and
special needs communities and prompted multiple advertisers to withdrawal from
the show. He was also fired from the now defunct United Autism Foundation,
where he was working as a public relations representative.
According to reports, Jasinski used his show's proceeds to bankroll his drug
business. Former Season 9 houseguest, Matthew McDonald was allegedly in on
Jasinski's distribution scheme and also faces similar prison time.
Ironically enough, immediately after winning his grand prize, Jasinski made a
pledge on live TV to give away $100,000 to help children with autism and was
later quoted in a Q&A session as saying, "Bottom line, I'll help children, I'll change lives; that's why I'm on the show — period."
Had Mr. Jasinski made good on his promise (we're assuming he didn't), it's quite possible that he would
have avoided this mess altogether.