Holiday Gift Ideas for Children with Autism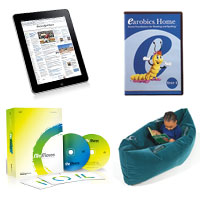 With Christmas just a few weeks away, parents of children with autism may be in the familiar position of having difficulty in finding the right gift for their loved ones. In the current economic environment, this can be even more of a challenge for those who are on a tight budget. For those last-minute shoppers, I've outlined some products below that may serve as great gift ideas. The items vary in pricing, so there should be something for just about anyone on any type of budget.
Apple iPad – For many, this gift will be out-of-reach financially, but I feel it's important to include because of the benefits it provides. The iPad has been heralded as a breakthrough device for children with autism, primarily for its downloadable applications, or 'apps' that have been developed to enhance communication for those with autism. If the iPad is out of your price range, consider the less expensive iPod Touch. eBay is a great spot to pick up an iPad at a discounted rate from what you typically would find in a retail store.
PRICE:  $350-$450 (used) or $550 – $800 (new). iPod Touch: $100 – $250 (used) or $250 – $500 (new). Prices vary based on model, storage space and web connectivity options, so be sure to do your research.
http://www.apple.com 
Sensory Pea Pod – The sensory pea pod is an inflatable vinyl pod for children that creates a "cocoon-like" effect, calming and relaxing them in the process. The item is safe and comfortable and children particularly enjoy the gentle pressure that it exerts on all sides. Available in different sizes.
PRICE: $75.00 – $150.00 http://tinyurl.com/sensorypeapod 
MeMoves™ – A multi-media presentation offered on DVD that helps a child's auditory, visual, motor planning and sequencing and limbic parts of the brain. Organized into three categories; Joy, Focus and Calm, users select one of the 13 sequences on the DVD and follow along (imitate) the actions on the screen. PRICE: $59.95
http://www.thinkingmoves.com 
Computer Games – It's no secret that children with autism are drawn to video and computer games. The following selections from Different Roads to Learning will help apply your child's love of video games into an interactive, positive learning experience. PRICE:  $49.95 – $150.00 http://www.difflearn.com/category/computer_games 
Grace – For those who already have an Apple device, the Grace app is a digital version of the Picture Exchange Communications System, a book that helps those unable to speak to build sentences from relevant images. The app starts with 400 images that were chosen by non-verbal people as communication starters. Categories include colors, food and drink, my body, and places. Grace allows the users to build their "photo vocabulary" by snapping their own photos to use within the app. PRICE:  $38.00 http://www.graceapp.com 
Weighted and Pressurized Vests – Vests that apply weight or pressure to the body have been shown to benefit some children with autism and help calm down a child, allowing them to better process information. These types of vests and clothing may also improve a child's ability to concentrate. Generally, children who are easily distracted or hyperactive respond well to the additional weight or pressure the clothing provides. PRICE: $30 – $80.
http://www.especialneeds.com/weighted-vest.html
Chewelry – Offered by Kid Companions, Chewelry functions as a chewable, wearable or attachable sensory tool for individuals with special needs. Items are discreet and age-appropriate alternatives to traditional oral motor and fidget toys.
PRICE: $8.00 – $20.00 http://kidcompanions.com
While we don't officially "endorse" the above products or the companies that provide them, they are definitely worth checking out and will hopefully spur some unique gift ideas for you this holiday season. More important than any gift, however, this time of year should be focused on family, friends and our loved ones and hopefully, the stress of shopping and gift-giving should be eclipsed by the more important things that really matter and really last.