Hulk Hogan Welcomes James Durbin into the American Idol Top 10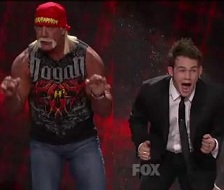 In a tense moment on American Idol Thursday night, James Durbin, along with
Paul McDonald, were both on stage awaiting their fates from Ryan Seacrest. The American Idol host delivered the news that neither Durbin nor McDonald were
safe, temporarily stunning the audience in attendance and millions at home.
However, in a strange and bizarre twist, wrestling star Hulk Hogan emerged from the
backstage area to deliver the news that both of them had in fact made the
"Top 10," making them eligible for the American Idol summer tour.
The memorable Season 10 moment had been preceded by a segment showing Durbin's
affinity for professional wrestling. When Hogan came forward, Durbin was clearly
starstruck at the presence of his wrestling hero.
Later in the broadcast, the real drama occurred when popular contestant Casey
Abrams learned that he had received the lowest amount of votes from last
night's performance, thereby eliminating him from the competition. However, in a
dramatic turn of events, all three judges unanimously agreed to use their
one-and-only "save" of the season, reinstating Abrams back into the
American Idol competition.
Seacrest then notified audience members and viewers that all 11 contestants
would be participating in the American Idol summer tour, creating a "Top
11" instead of a "Top 10."
The use of the "save" by the judges means that the stakes have now
been raised and Durbin and the other American Idol contestants have no safety
net if they receive the lowest number of votes in the weeks ahead.
A frontrunner since the beginning of the season, James Durbin has overcome
numerous trials in his life, including the death of his father at the age of
nine, Tourette's
Syndrome and Asperger's, a high functioning form of autism. Since his emotional
backstory emerged, he has become a fan favorite, particularly among those in the
special needs community.
With little margin for error, Durbin will have to continue demonstrating his
impressive vocal range and dynamic performances if he is to compete for the
American Idol title in May. The compeition this season is particularly fierce
and as
tonight has demonstrated, anything is possible.