James Durbin Covers Muse on American Idol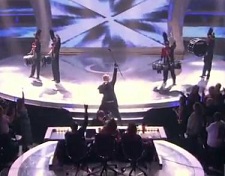 Week after week, American Idol contestants are challenged by judges Randy
Jackson, Jennifer Lopez and Steven Tyler to step it up and take chances. James
Durbin did just that this week, with a cover of Muse's
"Uprising." Along with an accompanying marching band of drummers, Durbin
executed what was arguably the best performance of the night.
After the song, the judges heaped praise on James for his originality and
predicted he would be the strongest performance of the night, despite the fact
that he was the only the second singer to perform.
Tomorrow, Durbin will learn whether or not he will advance to the American Idol
top 6. If so, he will be even closer to competing in the Idol finale, which takes
place in late May. However, the competition this year is extremely fierce and it
will take the support of all of his fans and supporters as well as new ones if
he is eventually to be crowned the next American Idol.
Durbin, who has been diagnosed with both Tourette's and Asperger's Syndrome (a
high functioning form of autism), has been a frontrunner since the season began.
His vocal range, along with dynamic performances have won over fans week after
week. Additionally, when his backstory emerged, he garnered much support from the autism,
Tourette's and special needs communities. His die-hard fans are affectionately
known as "Durbinators."