James Durbin Cruises to the Top 24 on American Idol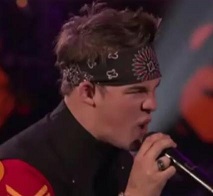 On Thursday evening, American Idol viewers watched as judges Randy Jackson,
Jennifer Lopez and Steven Tyler eliminated and advanced contestants, ultimately
comprising the show's coveted "top 24" spots. Included in that group
was James Durbin, who along with his fellow contestants, will now be performing
on live television beginning next week.
In his final solo performance before moving on, Durbin performed a rendition of
"A Change Is Gonna Come" by Sam Cooke, clearly impressing the judges with a wide
range of vocals.
Durbin, who has been diagnosed with both Tourette's and Asperger's Syndrome,
was visibly nervous prior to learning his fate, with his grimacing and wincing
tics clearly noticeable to viewers.
As Durbin celebrated the news of his advancement, Steven Tyler quipped,
"Take that sh** Tourrette's!" and noted that he was "a lightning
bolt." All three judges seemed pleased to see him advance and in an indication that Durbin is one of the frontrunners this season, Ryan Seacrest said
to viewers, "We now turn James over to you."
James
Durbin has been impressive since the audition rounds began but based on some
comments on Twitter and elsewhere, it appears he has a few haters as well.
Earlier this week, even TMZ tried running a "gotcha" piece on Durbin
that involved some unflattering comments he made last year, all while
insensitively referring to him as the "Tourrette's Guy." Clearly, TMZ
isn't well educated on Aspies and their lack of "filters."
As Durbin advances, it's likely that the insensitivity and cruelness of others
will continue to emerge, as is usually the case when someone is different. However, James now has the
opportunity to silence his critics and show the world that individuals with
autism and other special needs are capable of achieving extraordinary things in
their lives, regardless of circumstances.