James Durbin Running Away with American Idol Competition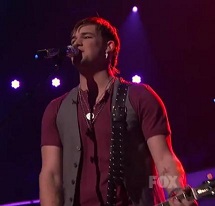 In what may have been the best performance of the season from any American Idol
contestant,
James Durbin performed "Will You Still Love Me Tomorrow," from Carole
King and once again stood head-and-shoulders above the rest of the competition.
Durbin clearly outshined the other 5 remaining Idol contestants, prompting Judge
Randy Jackson to proclaim, "This guy just might win the whole thing!"
Jackson then proceeded to go on stage and hug James in appreciation of his
performance.
Durbin, who has both Tourette's and Asperger's, has been a fan favorite since
the start of Season 10 for his diverse vocal range, as well as his rock and
metal "edge" that he has brought to the competition. With consistent
performances each week, Durbin has never been in the bottom 3 on any of the
Thursday result shows. He has significantly matured as a singer since his
initial audition and appears to be separating himself from the other contestants
in a major way.
We have covered James quite extensively on this site since his first appearance
on the show in early February. Much like Jason McElwain, Temple Grandin and
others, Durbin has been able to shatter many of the common stereotypes that
exist with those who have been diagnosed with autism spectrum disorders.
Regardless of where he places in the competition, Durbin is going to have a very
successful music career and as a result, will have a tremendous platform to
represent those with autism and other special needs. And based on Wednesday's
performance, James appears to be on his way to winning the entire competition.