Morgan's Wonderland: A Theme Park for Special Needs Children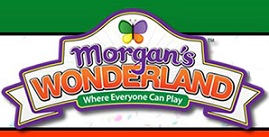 Last week, one of our authors posted
an article about some sensory challenges her child experienced while on a
trip at Disney World.
With these types of issues common for special needs guests at theme parks, San Antonio-based philanthropist Gordon Hartman recently opened "Morgan's Wonderland," a 25-acre amusement park designed for special needs children, while still appealing to everyone.
Inspired by his own disabled daughter's exclusion from playground activities, the park is both innovative and heartwarming, with attention paid to every detail, including a Braille-decorated jungle gym wide enough to fit two wheelchairs side-by-side, waist high sandboxes accessible to all and an indoor extravaganza of activities called "Sensory Village."
Generously spread out, yet designed to not be exhausting, the one-year-old park has about 20 attractions from active (Butterfly Playground) to easygoing (a train circling a mile-long loop through the park and around a lake). Most tranquil is the Sitting Garden, a quiet enclave that's a favorite among parents of children with autism.
The first of its kind in the nation, Morgan's Wonderland has attracted more than 100,000 guests to San Antonio, despite having little national advertising. Individuals with autism, orthopedic impairments, mental retardation and seizure disorders are among the most regular visitors, yet all children will enjoy its many opportunities.
As guests arrive at the park, they are assigned special RFID (Radio Frequency Identification)
wristbands that identify their family or group. Monitor stations are located throughout the park and if a family becomes separated, they can quickly be reunited when a bracelet is scanned.
In a true testament to the generosity of the park's creator, admission for people with special needs is
free and adults accompanying them are just $10. General admission is $15. Reservations are recommended as the number of guests is limited to ensure the quality of the experience. However, people traveling long distances and arriving without reservations won't be turned away.
Morgan's Wonderland also features a community outreach in the form of an Adaptive Sports and Fitness Program, Scholastic Field Trips and Extended Learning Outreach. The Monarch Academy, a special-needs school initially serving grades six through twelve, will be opening at the end of this summer.
More info can be found at http://www.MorgansWonderland.com.