New Batman Comic Features Autism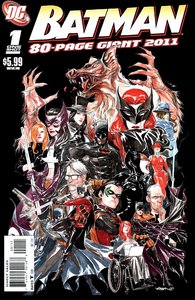 My sons with autism have always loved comics. Now teenagers, they still gravitate towards graphic novels. Having a story broken down into small illustrated segments is inherently appealing to individuals with autism.
A comic book writer in New Jersey named Joe Caramagna tumbled into this affinity by reading comic book message boards. Inspired by the notion that comics could make a difference in the life of a child with autism, he has written a new issue of DC's "Batman 80-Page Giant 2011" that features a young boy with autism as its protagonist. Reasoning that comics could unlock a child's imagination and creativity, he named his new work "One Lock, Many
Keys."
"One Lock, Many Keys" focuses on a child with autism named "Lucas" immersed in the pages of his comics as his parents argue over whether or not he should be reading them. As they leave his room Lucas claps his hands and mutters to himself, a reaction recognizable as autistic.
He crawls into bed just as something rushes past his window. Climbing onto the fire escape, he gets caught in a battle between the Batman and the hulking, zombie
super villain Solomon Grundy.
Caramagna leaves the ending open to interpretation as to whether the encounter was real or played out in Lucas' imagination, but in the final panels of the comic, the boy's parents are delighted when he has achieved a new developmental milestone.
Without knowing that cartooning is already widely used to help children on the spectrum learn about emotions, Mr. Caramagna has created a sensitive,
inspiring and thrilling story involving autism. This is the first time a Batman story has dealt with autism since the inception of the series in 1939.
May it not be the last.