Restraint and Seclusion: The Dark Secret of American Schools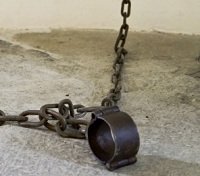 I recently examined the events in Newtown through the lens of special education in this country, contending it is a broken system in need of as much attention as gun control and mental health. Out of that sprang a question in my mind, "In the last year, how many special needs children died in our schools at the hands of adults
charged with their care?"
It took me a long time to find an answer, and the answer is I couldn't find a definitive one.
A hodgepodge of statistics gathered by various groups demonstrates that there is no national system of reporting serious and fatal incidents involving restraint and seclusion in our schools. States vary as to whether they even have rules and regulations governing interventions in the school setting. Many injuries and deaths go unreported. The best information we have comes from a report issued by the U.S. Government Accountability Office (GAO) in 2009 estimating that over 200 students have died as a result of school based seclusion and restraints between 1999 and 2009.
Then on May 27, 2009, The Council of Parent Attorneys and Advocates (COPAA) issued a report, " Unsafe in the Schoolhouse: Abuse of Children with Disabilities," which contained the horrifying statistic that 68% of the students who were subject to seclusion or restraints were diagnosed with autism or Asperger's syndrome. In other words, brute force is applied in lieu of best practices in dealing with our children's autism.
Restraint and Seclusion: Resource Document (US Dept of Ed, May 2012) puts forth a concerted effort to address these serious issues. The report makes clear that restraint and seclusion are intended only as a means of last resort, when the child is of imminent harm to himself or others. Aside from physical harm that can culminate in death, restraint and seclusion psychologically mar the child, and as a strategy provokes the behaviors it is intended to stop. Tragically, restraint or seclusion are often used as a routine means to address instructional problems or inappropriate behavior such as disrespect, noncompliance, insubordination, etc.,
as a means of coercion or retaliation, or simple convenience. Lack of training is cited as a huge element in harmful and deadly incidents. The report goes on to conclude that positive behavior supports must supplant restraint and seclusion. A comprehensive list of fifteen guidelines are laid out, but the document lacks muscle.
Unless and until there is national legislation, there will be no enforceable protections. Sen. Thomas "Tom" Harkin [D-IA] recently introduced S. 2020: Keeping All Students Safe Act, but lawmakers have indicated no plans to take up the issue. Indeed, govtrack.us gives us a dismal prognosis that it has a 34% chance of getting past committee and 6% chance of being enacted.
How many more children will be psychologically damaged, physically injured, or killed before lawmakers take up their cause??