Teen with Autism Uses YouTube to Display Unique Skills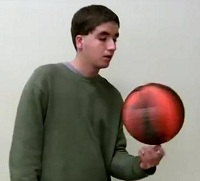 First there was Jason McElwain. Now, another young man with autism has taken to YouTube to show off some unique basketball skills.
In a recently uploaded 48-second video, 17-year-old Karl Garay can be seen spinning a basketball from the palm of his hand and then keeping it going using the same hand.
Garay's father, who I've known for six years, told me the self-taught trick evolved from his son's love of spinning and motion and began "out of nowhere." The special talent has been an excellent icebreaker in social situations and also has been a great form of self-expression.
Diagnosed with autism at an early age, Karl has had communication difficulties much of his life, but this has not stopped him from pursuing the things he loves.
Once again, this video is a reminder that we should never place limitations or boundaries on those with autism. Each individual has their own set of talents and abilities and as parents, teachers or caregivers, it's our responsibility to help unlock these gifts, allowing them to reach their fullest potential.