How to Apply for the Wisconsin Early Autism Project (WEAP)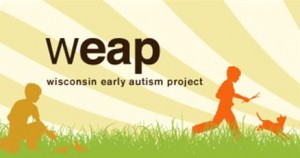 The Wisconsin Early Autism Project, or WEAP for short, is a great resource
for residents of Wisconsin and surrounding areas that have children with an
autism spectrum disorder. Under the Wisconsin Early Autism Project,
children under the age of 8 who have been diagnosed with ASD are potentially eligible for up to 3 years of funding for autism
treatments and therapies. Children 8 and older are still eligible for
funding, but at reduced award amounts.
The success of WEAP has spawned satellite programs in Minnesota, British Columbia (CANADA) and
Malaysia. The program is modeled after the work of Dr. Ivar Lovaas, a well
respected ABA (Applied Behavior Analysis) who offerred treatment
programs in the Los Angeles, California area before passing away last year.
Parents and their children qualify for the program through a waiver system
and processing is handled by individual counties. Case workers work directly with
families during the application period. The waiver system also offers
funding for in-home autism treatment.
Wisconsin is often cited as a good state to live for autism services and the WEAP is often referenced as one of the reasons why. To
learn more about The Wisconsin Early Autism Project, visit http://www.wiautism.com/contact.php