James Durbin Eliminated in American Idol Shocker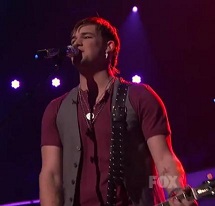 In yet another shocking American Idol elimination episode, James Durbin was
prematurely voted off tonight, despite being one of the most consistent
performers of the season. This is the second time this year that voting results
have produced outrage from Idol fans. A few weeks ago, Pia Toscano, another
strong contestant and frontrunner, was also eliminated in surprising fashion.
Twitter and Facebook are abuzz with cries of injustice. However, Durbin's early
exit may be a blessing in disguise and history proves that he is in good
company.
Chris Daughtry, a fellow Idol rocker, also placed 4th in American Idol's Season 5
installment. Daughtry later went on to have an amazing career (which continues
to this day) and is currently the third most successful American Idol contestant in terms of record sales,
trailing only Kelly Clarkson and Carrie Underwood.
James will have no problem landing a record deal and we look forward to
seeing him live in concert.
Congratulations, James. You did the special needs community proud.